Stainless steel standard equipment
The use of stainless steel in commercial kitchens is a standard nowadays. Although light metals and plastics are also working their way in this sector, they will not be able to take the place of stainless steel very easily. Water, humidity, food acidity, aggressive cleaning agents and other elements require an anti-corrosive material, which is able to be cleaned easily and kept resistant and hygienic for many years.
The below product program of the HKI member companies from the field of stainless steel processing shows the wide spectrum of appliances, which are produced in accordance to specified standards in compliance with the current applicable health and safety regulations.
Work tables and cabinets, industrial sinks, shelves, crockery and tray dispensers, plate and cup warmers, floor gutters and drains, GASTRONORM containers, food serving trolleys, tray clearing trolleys, shelf trolleys, transport trolleys, thermo containers etc.
Laws and regulations for stainless steel products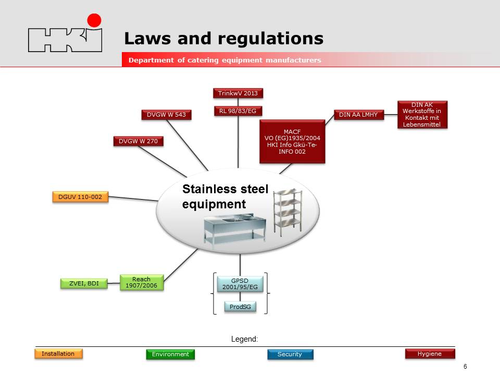 Before we begin:
Which topic interests you most?